Professional Longarm Quilting Services are now available! I am super excited to finally be able to offer a variety of quilting services to Barrie & Area, as well as across Canada. Longarm quilting services include edge-to-edge designs, combinations of custom and edge-to-edge, and totally custom quilting. Basting and binding services and machine embroidered custom quilt labels are also available. Space is limited! Reserve your spot today by: 1. Email: info@thewittystitcher.ca with your quilting needs 2. Phone: 705-970-4538 (please leave a message, with your name and number or email) 3. Reserve your longarm service through the link below Check out ALL...
---
An all-time favourite is back in stock! 🐝 🐝 BEES face masks have been sold out for the last few months, but fortunately, we were able to find a little more! Get your BEES face mask HERE!  Check out what a few customers have had to say about the Bees 100% cotton face masks:
---
Summertime means vacation time! I will be on vacation from July 9 - 19, 2021. What does this mean for you? Please have your orders in by July 7 in order for them to be shipped before July 9th. ALL ORDERS placed during the July 8th to 19th window will be shipped during and after the week of July 19th. Keep on reading for our Last Call and sale face masks :) SHARK ATTACK! Fresh summer prints are now in stock! LAST CALL! Several of our popular face mask fabrics are retiring! Once they're gone, they are GONE!     Shop...
---
• canada face mask • face maks recommendations • mandatory • provincial face mask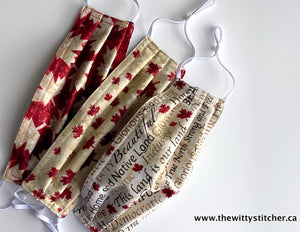 As more and more people are becoming fully vaccinated, Canadian provinces may be readdressing whether or not Face Masks are still mandatory. Some provinces have set up recommendations, while other provinces have specific requirements and mandates. While not exhaustive of all of the health precautions recommended, here is a breakdown of current face mask recommendations and mandates, by province:  Alberta July 1, 2021 - Stage 3 of the provincial reopening plan General indoor face mask mandates are lifted, however, face masks are required on public transit and in health care settings https://www.alberta.ca/covid-19-public-health-actions.aspx British Columbia BC is now in Step 3 of...